MEASURING AN OPTICAL PULSAR LIGHT CURVE
USING A STROBING TECHNIQUE
FIRST TRIAL RUN 2nd March 2003
The current M1 Pulsar frequency reduces by approximately 30ppm per month and the current value is published by the Jodrell Bank Observatory For this first trial run, the strobe wheel was set running at a nominal frequency of 29.8Hz, slightly lower than the Pulsar frequency of 29.809Hz This should theoretically give approximately a 100sec per cycle strobe effect.
A 500 second series of 50 10sec exposures was made. This was sufficient to detect the pulsar in each frame, but noise produced significant variations between consecutive exposures. To reduce the noise, a 3 exposure running mean series was produced. (See animated gif below) This has the effect of broadening the pulses, but provided the strobe cycle is slow enough, the pulsation should still be detectable.
PULSAR AND COMPARISON STARS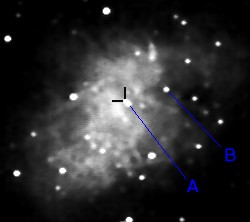 Click on image to see animated gif of pulsations
(Note:- The bright 'pulsar' at the bottom of the frame is just a varying hot pixel!)
WARNING 1.2 Mb !!!
There is evidence of two complete cycles in the series (The Pulsar light curve consists of one strong pulse and one weaker intermediate pulse per cycle) but general variations in the image from exposure to exposure means that there is some uncertainty in the reliability of the result.
To improve the accuracy, the brightness of the pulsar was compared frame by frame with two comparison stars A (the Pulsar's close companion) and B, identified in the image above. A and B varied similarly during the series, giving confidence that variations in the Pulsar could be separated from the random background variations. The resulting light curve is shown in the graph below (The graph shows the two measured cycles repeated). There is evidence of the main and intermediate pulses. The cycle length is 250 seconds compared with the theoretical 100 seconds but this is within the potential absolute error in the sound card pulse generator accuracy.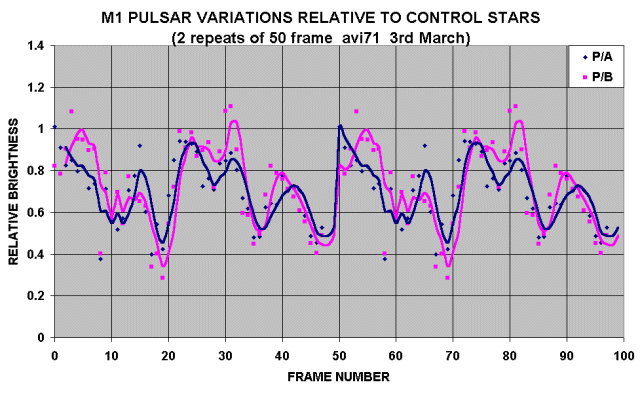 The conclusion is that the cyclic variations in the Pulsar optical brightness have probably been detected, but that the background variations leave some uncertainty. Repeat runs of longer duration and at different strobing rates are needed to confirm these initial observations.
4th March 2003
TO PULSAR DETECTION INTRODUCTION