SPECTROSCOPY
RETURN TO SPECTROSCOPY INTRODUCTION
How faint can we go?
Modifying the ALPY Spectrograph for fainter objects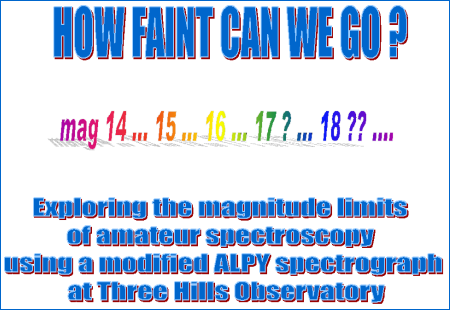 (Click to download pdf)
This poster, versions of which were presented in May 2014 at ASPEKT 2014 in Cologne, and a BAA Variable Star Section meeting in York describes the modification of my ALPY spectrograph with a 200 l/mm Grism and some early results from it. This was done to allow fainter objects to be recorded at lower resolution, for supernova identification for example.
The poster contains spectra of objects down to ~ mag 16.5. Since publication, the equipment has been used to measure supernovae spectra at ~mag 17.5.
Since April 2016, the modified ALPY 200 has been used to confirm and classify newly discovered supernovae with reports and spectra submitted through the IAU Transient Name Sever. The confirmation and classification of SN2016bme (which was also an amateur discovery) is believed to be the first by an amateur and Three Hills Observatory is currently (December 2017) the only amateur observatory regularly carrying out this work. An up to date list of spectroscopic confirmations made at THO can be found here on TNS
RETURN TO SPECTROSCOPY INTRODUCTION